Last year I posted about
St. Nicholas Day
. We celebrated that again this year, although in a slightly abbreviated fashion - turns out I am running a little behind on Advent activities with a brand new baby in the house. We did manage to make pepernoten cookies, the kids really helped out this year: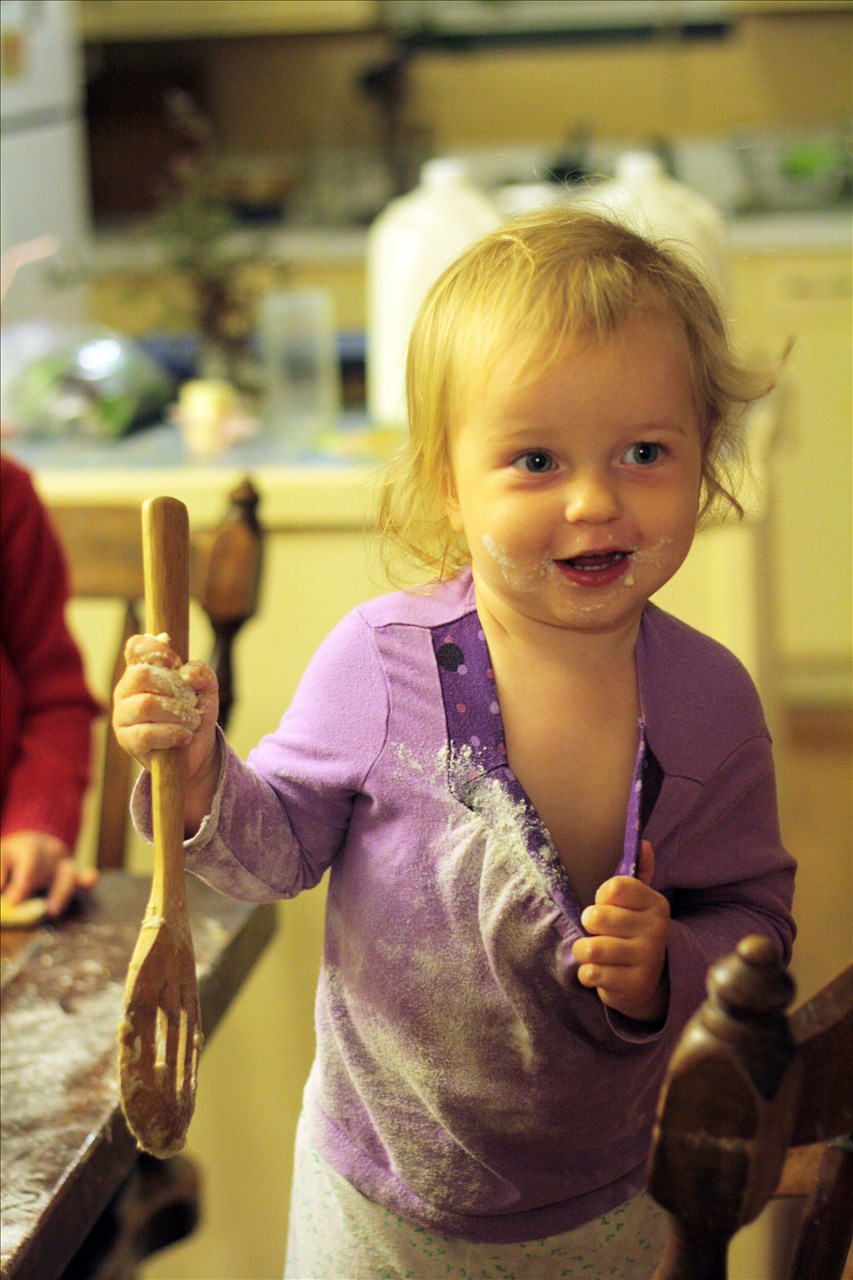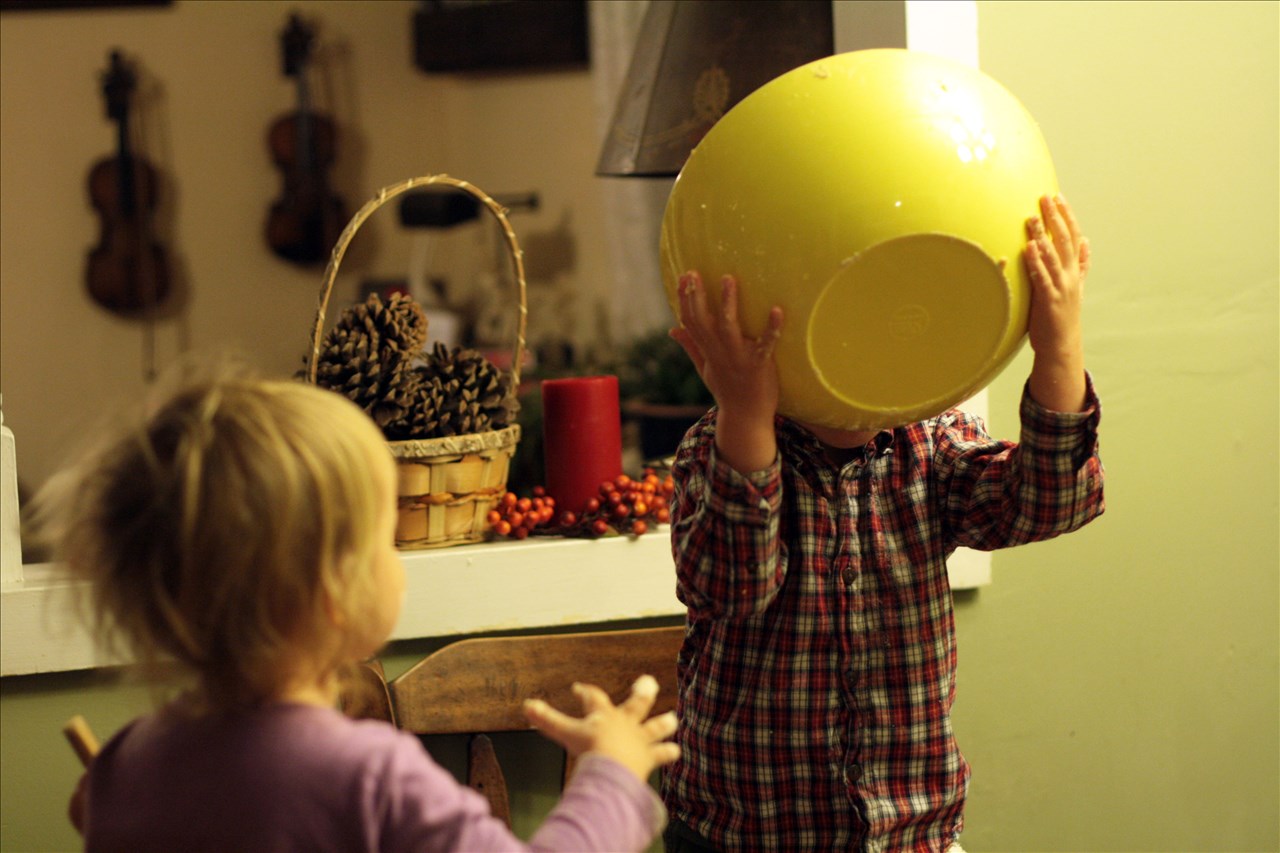 The next morning the children woke up to find their wooden shoes filled and we read the story of the real St. Nicholas. Every year I hope I will manage to add a little bit more depth and fun to our family traditions, though some years (like this one....) might not get so much time devoted to them.
However
, I DID do better with Santa Lucia day this year. Santa Lucia day is always on December 13th but we did our family celebration on Saturday morning so that Clay was able to attend. Margaret and Amelia did have to wear some white shirts out of my closet since I did not plan ahead enough for them to have white gowns. And William's star boy outfit will not be lasting through the years. But at least he had a star boy outfit. And he loved it.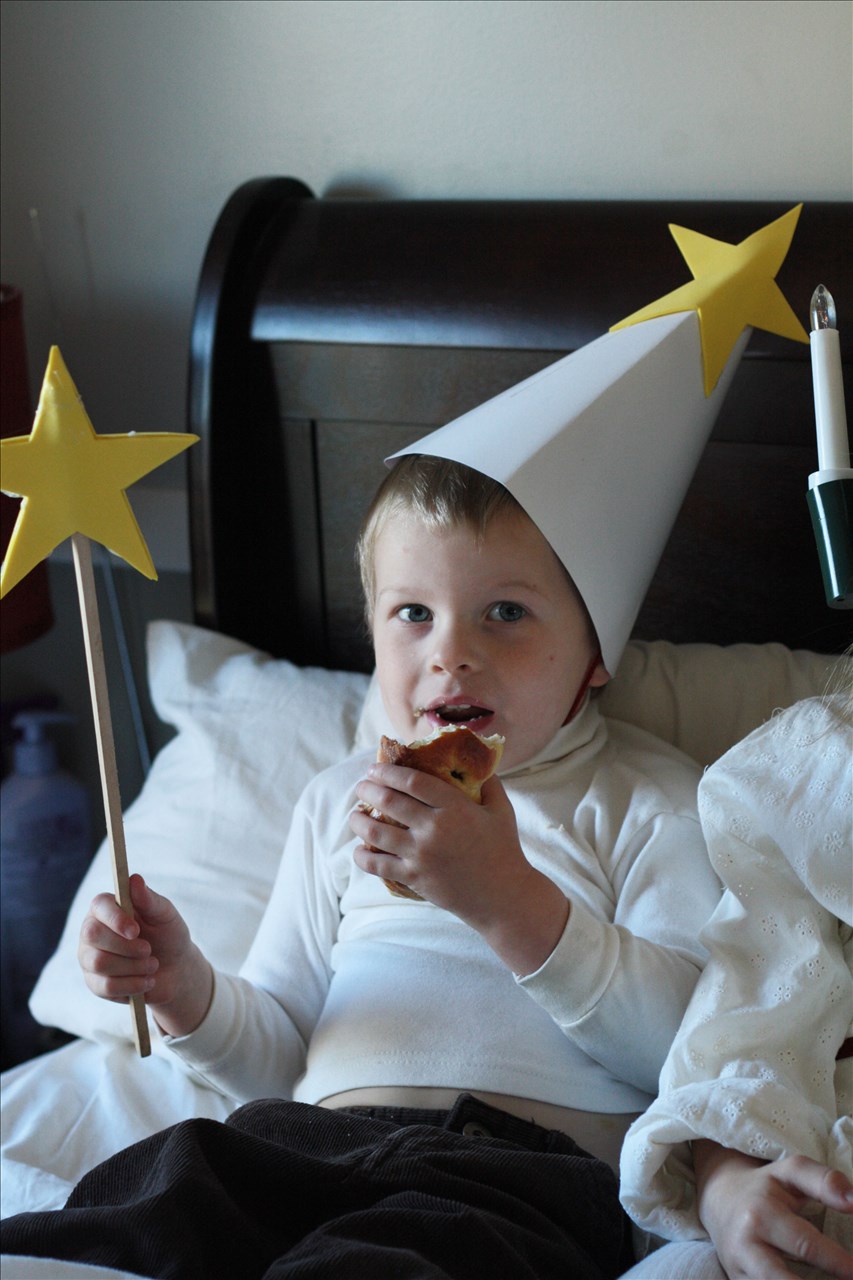 The tradition of
Santa Lucia
comes mainly from Sweden. My family (on my mother's side) has enough Swedish heritage that we have celebrated this, at least intermittently, throughout the years. The fact that I can have an excuse to get breakfast in bed provides some motivation for me to continue this in our family. Granted, I have to do all of the work for now, but someday I will reap the benefits.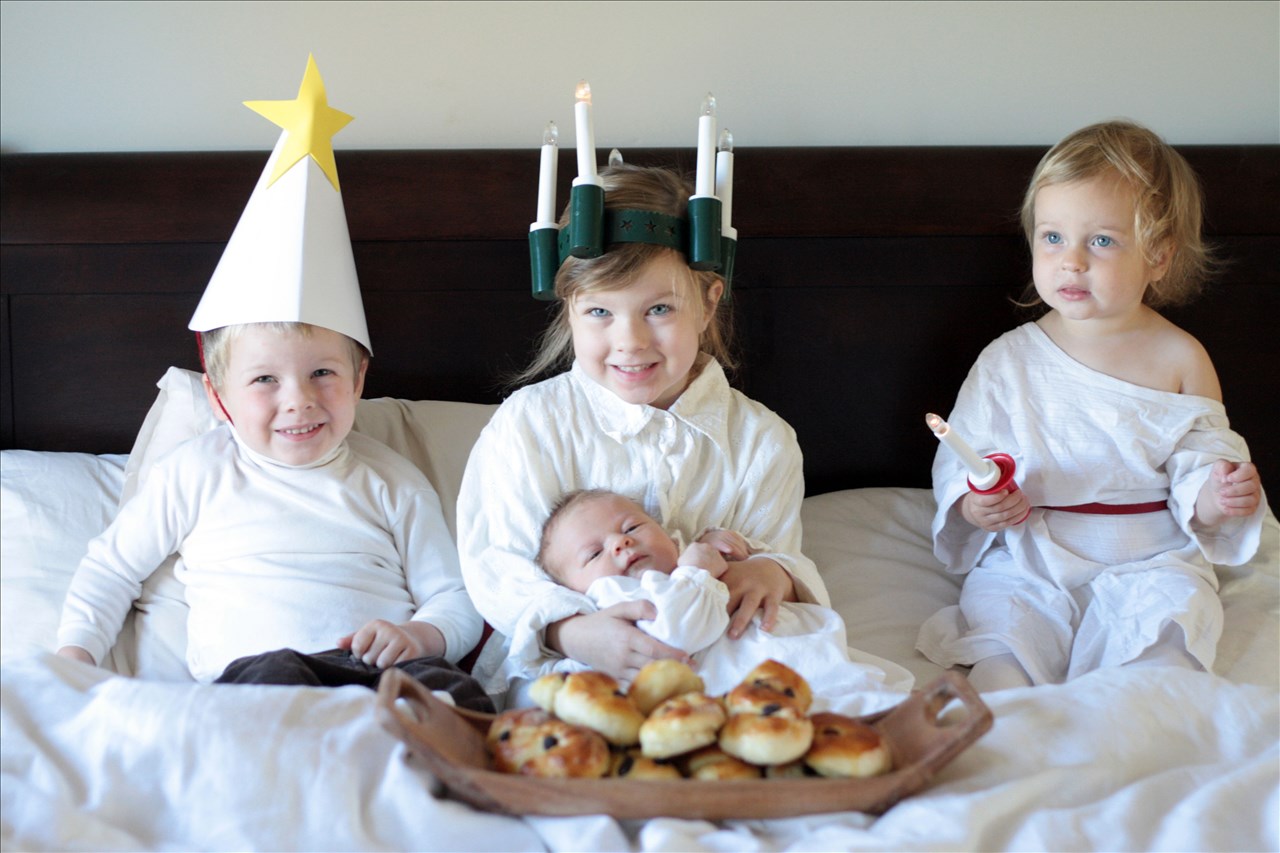 According to tradition, the eldest daughter dresses as Santa Lucia (white gown, red ribbon, and candles on her head) and leads the other children in providing breakfast for their parents. The younger girls are Santa Lucia's attendants and the boys get to play the slightly more mischievous role of "star boys". Supposedly this comes from a separate Swedish tradition involving young men going from door-to-door on the longest night of the year to frighten people, or beg money, or sing songs. Somehow this got melded into the Santa Lucia celebration, and now all the young boys get to wear tall pointed caps and carry star wands.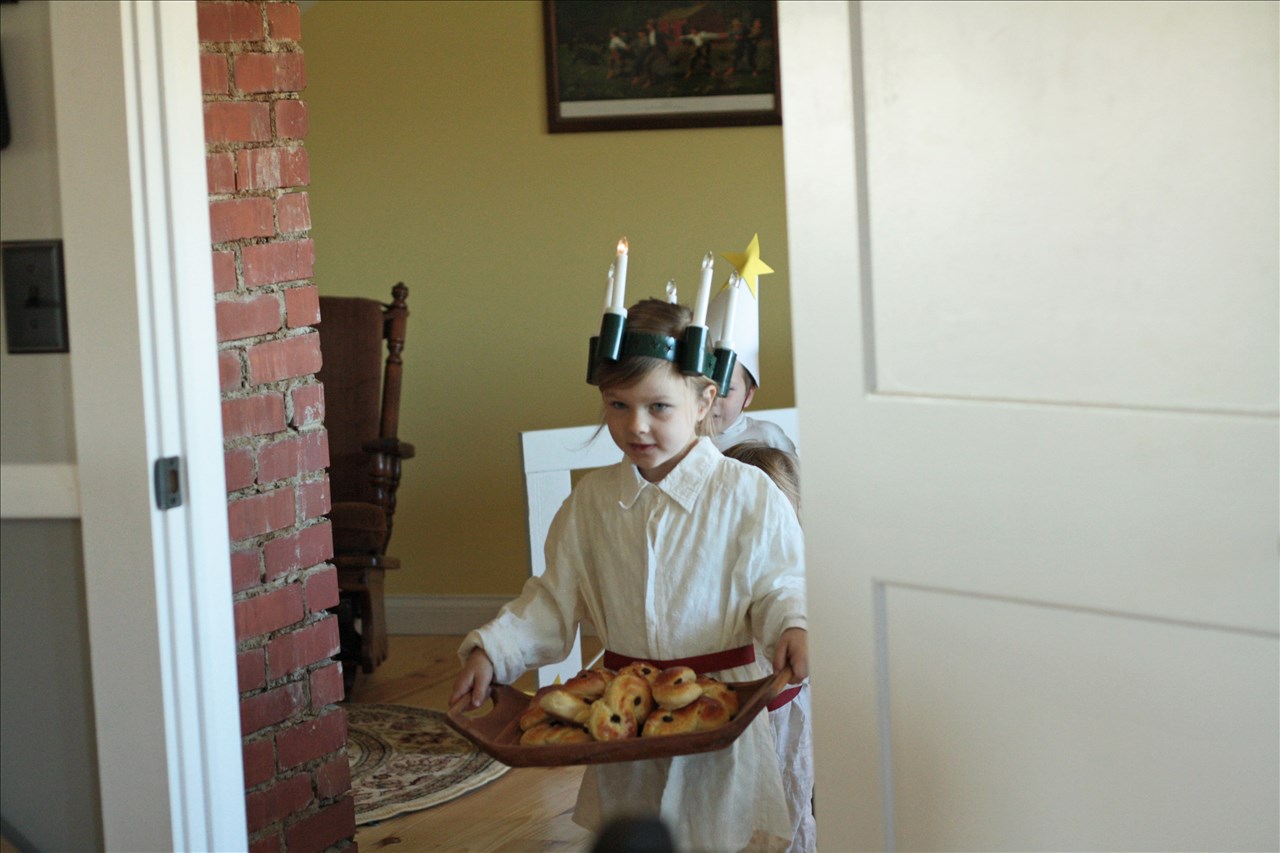 We made
lussekatter
rolls for the breakfast. Otherwise known as saffron buns, but for us they were saffronless saffron buns. I couldn't bring myself to purchase a jar of saffron, the most expensive spice in the world. Maybe next year we will indulge. Here is the recipe we used (from
Lucia: Child of Light
by Florence Ekstrand.... my source for Santa Lucia traditions):
2 packages of active dry yeast
1/2 cup warm water
1 1/2 cups warm milk
1 cup sugar
3/4 cup butter, softened
1 egg
3/4 tsp salt
1/4 tsp saffron powder (or 1 1/2 tsp ground cardamom and 1 tsp grated orange peel)
7 1/2 cups all purpose flour
1/4 cup raisins (for decorating)
1 slightly beaten egg mixed with 1 tsp water for brushing
Directions: In mixing bowl combine yeast, warm water, and 1 tsp of the sugar and let stand 5 minutes to soften. Add milk, remaining sugar, butter, egg, salt, and saffron. Stir in enough of the flour to form stiff dough (about 6 cups) then knead the rest in on a floured board. Put dough in greased bowl and place in warm spot for one hour. Pinch off balls of dough and roll into ropes about 1/2" in diamter and 12" long. Make ropes into "S" shapes or coils. Brush lightly with beaten egg and decorate with raisins in center of each coil. Bake at 400 for 8-10 minutes until golden brown. Makes about 5 dozen.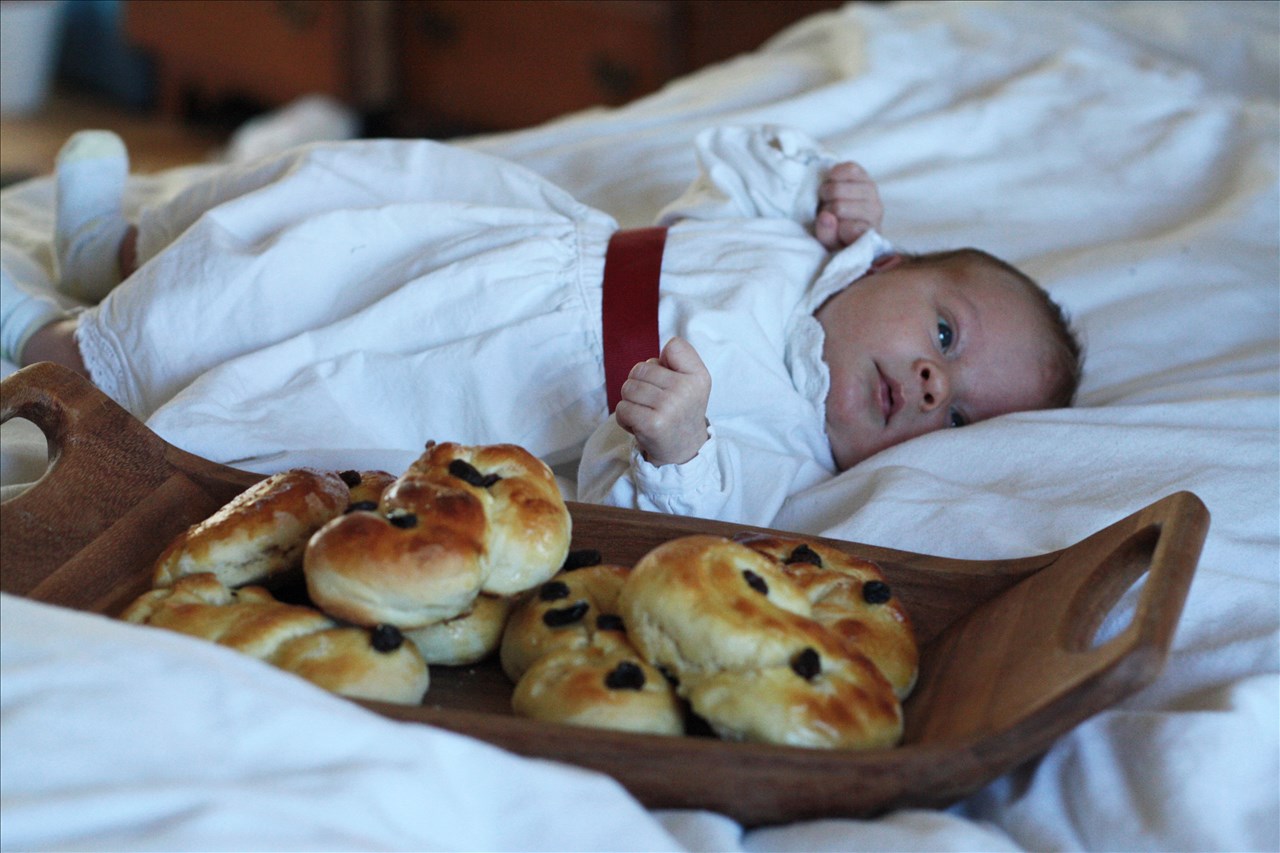 We also made Boel's Pepparkakor (ginger snaps), which are
delicious
, but I am still learning how to roll out and bake them properly so I will post that recipe at a future date.
We all piled into the bed and filled it with bread crumbs while we sipped on hot coffee (or warm milk, for the little ones).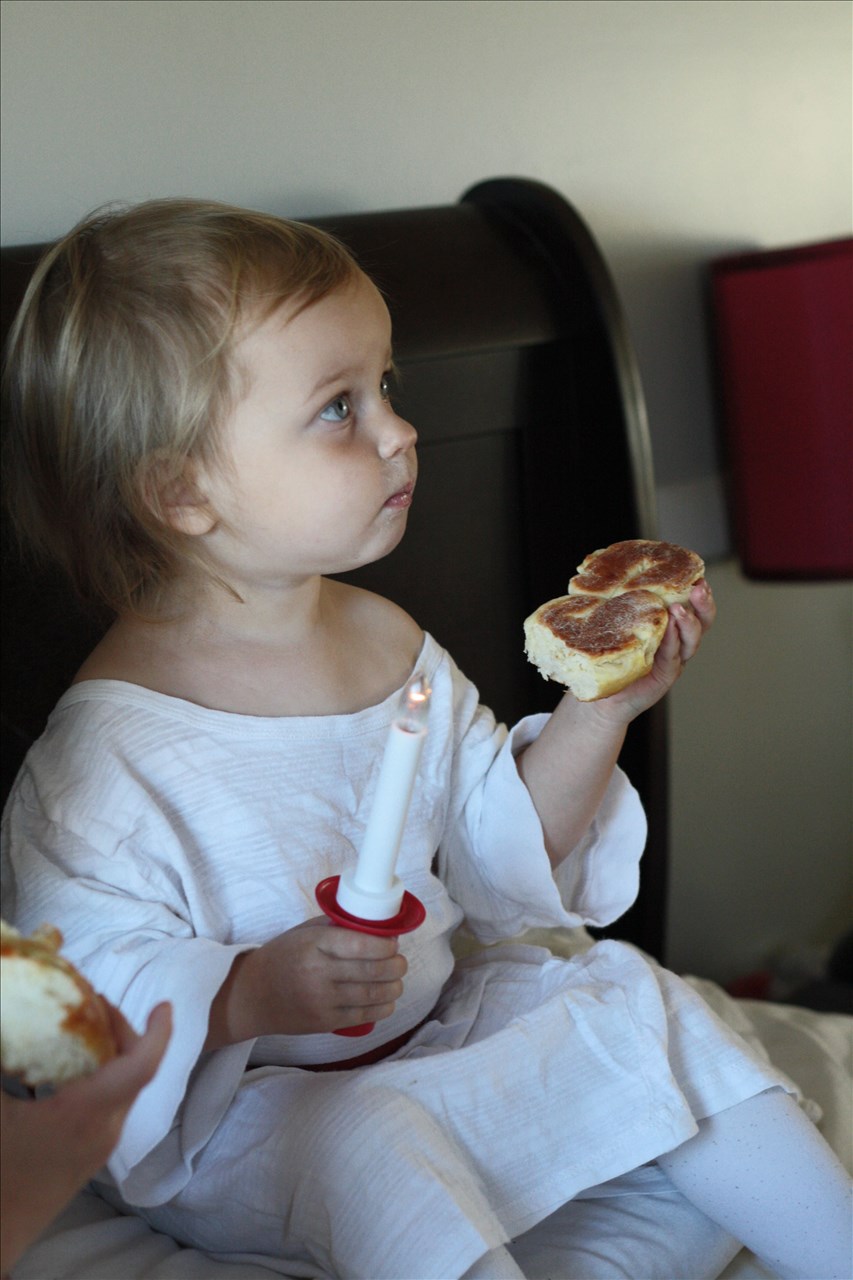 I read about Santa Lucia while the kids ate and we listened to the traditional
Santa Lucia song
. Here are the words, in swedish:
Natten går tunga fjät
rund gård och stuva;
kring jord, som sol förlät,
skuggorna ruva.
Då i vårt mörka hus,
stiger med tända ljus,
Sankta Lucia, Sankta Lucia.

Natten går stor och stum
nu hörs dess vingar
i alla tysta rum
sus som av vingar.
Se, på vår tröskel står
vitklädd med ljus i hår
Sankta Lucia, Sankta Lucia.

Mörkret ska flykta snart
ur jordens dalar
så hon ett underbart
ord till oss talar.
Dagen ska åter ny
stiga ur rosig sky
Sankta Lucia, Sankta Lucia.
And english:
Night walks with a heavy step
Round yard and hearth,
As the sun departs from earth,
Shadows are brooding.
There in our dark house,
Walking with lit candles,
Santa Lucia, Santa Lucia!

Night walks grand, yet silent,
Now hear its gentle wings,
In every room so hushed,
Whispering like wings.
Look, at our threshold stands,
White-clad with light in her hair,
Santa Lucia, Santa Lucia!

Darkness shall take flight soon,
From earth's valleys.
So she speaks
Wonderful words to us:
A new day will rise again
From the rosy sky…
Santa Lucia, Santa Lucia!
Susannah was a really helpful Santa Lucia attendant this year, though we didn't trust her to carry a candle yet. She has the special link of her namesake, Susanna Andersson, being the first swedish immigrant in that part of our family line.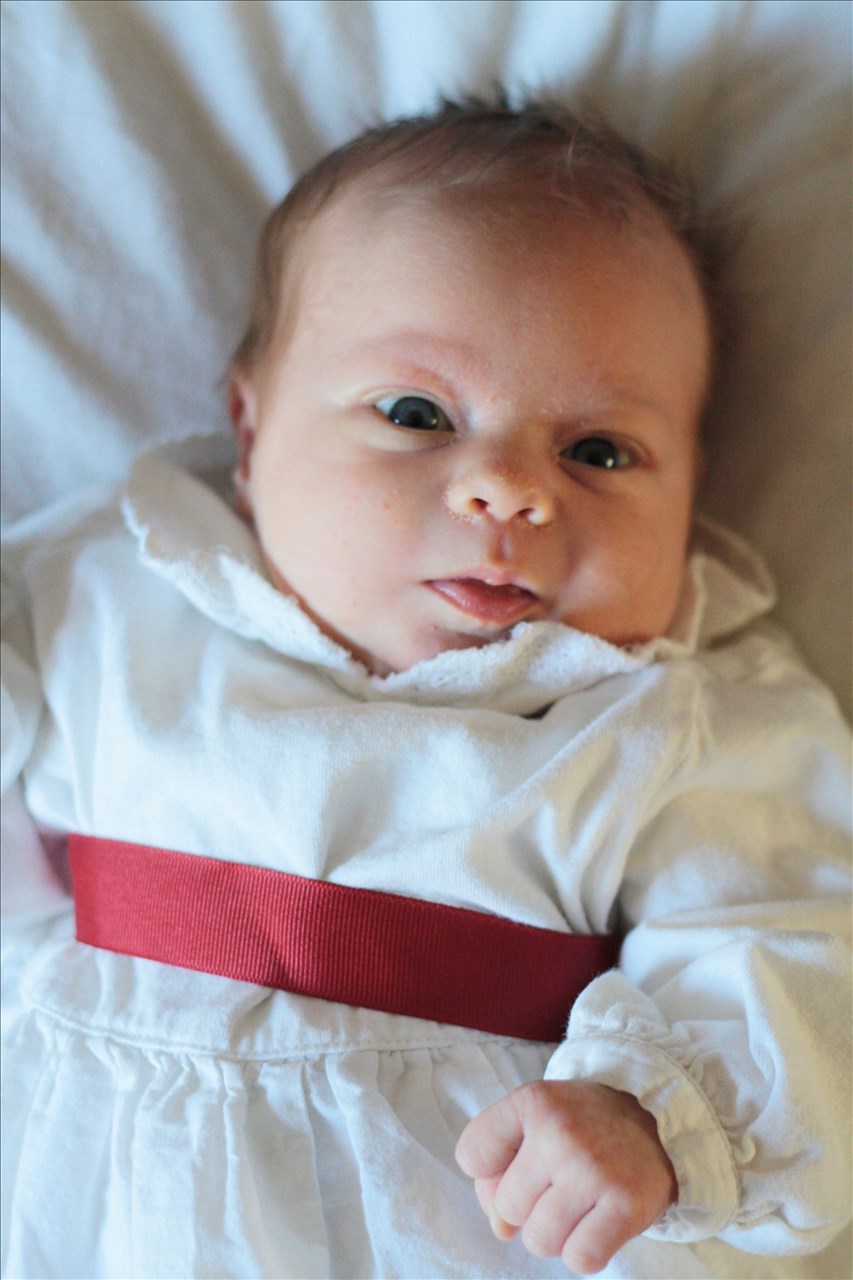 Happy Santa Lucia Day (a few days late)!